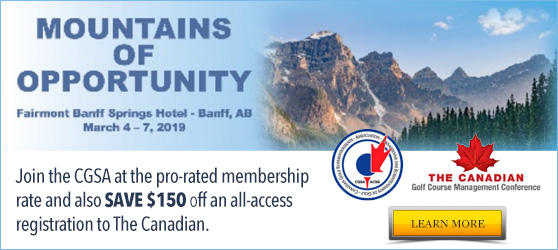 Join the Canadian Golf Superintendents Association (CGSA) now and pay 1/2 price. Then receive an additional $150 off an All-Access registration to The Canadian 2019 Golf Course Management Conference at the Fairmont Banff Springs Hotel from March 4-7, 2019.

For the first time, The Canadian Golf Course Management Conference will be in one of the most beautiful places on the planet. Fairmont Banff Springs Hotel, Banff Alberta will be the host venue that's world renowned.

With over 15 hours of education programming on business and turf management sponsored by Syngenta, a full-trade show, peer recognition and numerous networking events, the Canadian is sure to offer something for everyone.

Start the conference with Keynote Address by Laura Katen, a well-known author and speaker in the golf superintendent community. She will present Communicating with Confidence, Clarity and Credibility – Are You Undermining Your Success? She will help superintendents, managers and other industry professionals understand how they can control how other perceive them, share strategies to develop and strengthen communication skills and facilitate interactive exercises to immediately apply key techniques shared.

On Tuesday, March 5 attend the awards lunch sponsored by Bayer celebrating Canada's best. Congratulate the Superintendent, Assistant Superintendent and Equipment Technician of the Year; as well as the Environmental Achievement Award Winner, scholarship winners and the John B. Steel recipient.

The trade show kicks off with the opening SociALL, co-sponsored by BrettYoung on Tuesday, March 5 from 4:00 – 7:00. The trade show includes provides delegates with new innovations or products and offers access to Industry Presentations and the Silent Auction as well as a lunch on Wednesday, March 6.

For the first time, attend the Sunset Gondola reception, in partnership with Target Specialty Products. Join colleagues and industry partners atop Sulphur mountain taking in the sunset and spectacular views while networking with your colleagues.

For more information on The Canadian in Banff, please click here. To join the CGSA, please click here: To register for The Canadian and receive the $150 off your registration, please contact the CGSA office for the coupon code.

If you register for the conference before January 31st you save even more as the rates increase February 1.

Consider purchasing a trade show booth and as a new industry member receive the pro-rated membership amount as well as paying the member rate for a booth. Visit (https://golfsupers.com/en/banff2019/banff-exhibitor-info) for details. That's a savings of over $600.

We look forward to seeing you at the Fairmont Banff Springs Hotel at The Canadian from March 4-7, 2019. If you have questions, please contact staff at 1-800-387-1056/416-626-8873.
For membership, please contact Lori Micucci, ext. 27 or
e-mail at: lmicucci@golfsupers.com
For conference, please call Barb, ext. 25 or
email at bmanifold@golfsupers.com.
>> Learn More