@{mv_date_MMM d, yyyy}@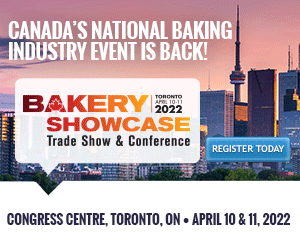 The shock of Russia's invasion of Ukraine has upended conditions far and wide, writes the Conference Board of Canada in a look at the aftereffects of the invasion. "Russia and Ukraine are responsible for almost one-third of the world's wheat exports, one-sixth of worldwide corn and a whopping three-quarters of total sunflower oil supplies."
» Read more...
American Bakers Association president and CEO Robb MacKie helps us understand how the Russian invasion of Ukraine might impact the baking industry in the United States. In an informative podcast, "Bake to the Future," he also shares what he's been hearing from bakers in Ukraine.
» Read more...
The Baking Association of Canada provides an important update from the federal government on issues affecting Canadian food and beverage manufacturers including the bakery sector.
» Read more...
A new resource for up-to-date, science-based wheat nutrition information provides answers to questions about fibre, gut health and healthy grains.
» Read more...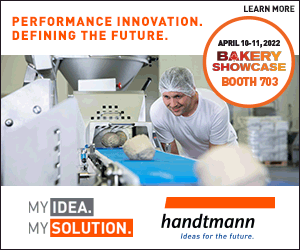 Ideas for the future
embodies a core Handtmann belief that listening is important and that collaboration is required to turn a customer's idea into a bakery success. The traditional bakery landscape remains even as new items are developing rapidly to align with the ever-changing demand for new, healthier, and more convenient choices.
Listening, responding, and listening some more results in better products, more tailored solutions with future proof technologies that can grow with you and adapt to changing needs. Our skilled bakery specialists in Waterloo and Germany look forward to exploring the potential value of Handtmann
Ideas for the future
with you.
See you at the Bakery Showcase booth 703.
» Learn more...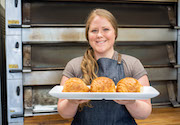 BAC asked you for stories about becoming a baker. Read this absorbing tale of inspiration through travel from Sheena Howdle, lead baker at Wild Flour Bakery in Banff, Alta. And when you're done, let us know how and why YOU became a baker! Let us help you share your stories!
» Read more...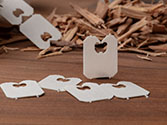 Approximately two-thirds of consumers find the recyclability of packaging important, but many consumer perceptions do not line up with scientific facts. Brands can help correct misconceptions by educating the consumer, addressing sustainability demands and food waste concerns amidst current supply chain challenges, and in turn winning in the marketplace. Read this insightful article by Emily Park, sponsored by Kwik Lok.
» Read more...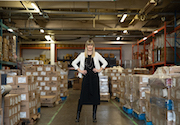 When given an opportunity, women can successfully start and lead businesses in the baking industry. That is clear from our conversations with female bakers and bakery owners. Read more about three impressive bakery businesses and the inspiring woman who lead them!
» Read more...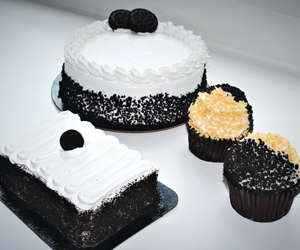 • Premium, Nut Free, Cake and Pastry Decoration.
• Plant Based
• Nut Free
• 10% Dark Cocoa
• No Artificial Colours or Hydrogenated Fats.
• Great for Cake and Donut Toppings!
Now available at your local Bakery Distributor or contact us at:
info@gumpert.com
» Learn more...
Get a taste of the education program focused on small bakeries coming up at Bakery Showcase April 10-11 in Toronto. Plan your time at the show and hear from longtime attendees Hamilton's Bakery in Strathroy, Ont., why they never miss the Showcase!
» Read more...
The American Bakers Association and the Baking Association of Canada have announced a partnership focused on developing the technical baking skills of their members' workforces. The partnership will open up ABA's highly regarded Bakers Manufacturing Academy training programs to members of the BAC.
» Read more...
The federal government is calling for proposals for projects under the Skills and Partnership Fund, which provides funding for partnerships between Indigenous organizations and industry employers to offer skills training for Indigenous people.
» Read more...
Multivac has begun extension work on the production hall at its site in Bozhurishte, Bulgaria. Production and assembly facilities, as well as new offices, will be constructed on an area covering approximately 5,000 square metres with completion expected in fall 2022.
» Read more...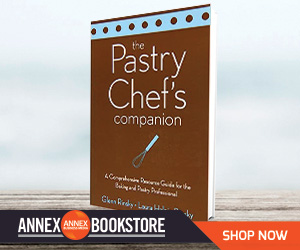 With more than 4,800 terms and definitions from around the world plus ten appendices filled with helpful resources,
The Pastry Chef's Companion
combines the best features of a dictionary and an encyclopedia. In addition to the current terminology of every component of pastry, baking, and confectionary arts, this book provides important information about the origin and historical background of many of the terms.
» Shop now