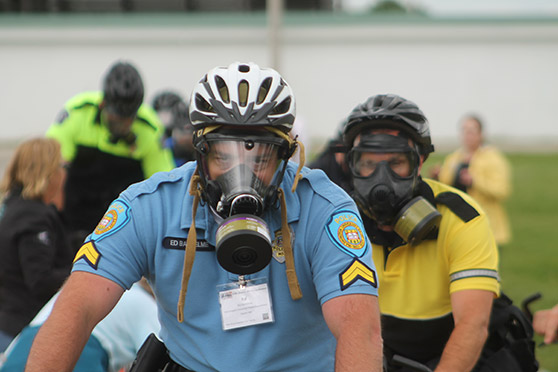 Join IPMBA in Fort Worth, Texas, for the premier training event for public safety cyclists, featuring exceptional Bicycle Response Team Training and more!

"...Ten fit, muscular police officers on black mountain bikes who had been watching from across the intersection in two columns of five, leaped into action. Dismounting as they closed in, they pushed their bikes directly into the heart of the melee…they used the bikes, and their bodies, to create a line, pushing back the crowd and separating the antagonists." — Jason Wilson, The Guardian, June 15, 2017

Whether you are preparing for political events, visiting dignitaries, parties and raves, or just expecting your team to make it to the championship, this course will prepare you to manage your crowds and ensure prompt patient care in crowd situations. Practical exercises include formations and deployment, single- and double-column riding, arrest/rescue techniques, squad withdrawal, and gas mask drills, complete with smoke and noise! Click here for all this and more!

View Details Online | Register Online | Download a Registration Packet | Contact Us!