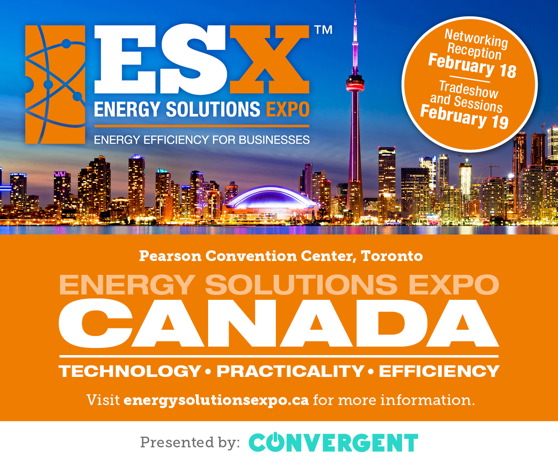 The Energy Solutions Expo Canada (ESX)—presented by Convergent—is the only event of its kind to unite dedicated ICI service and technology providers (vendors, consultants, manufacturers) alongside training and education sessions under one tradeshow roof.

This year's theme unpacks how cross-over technologies can be applied practically to lead to facility efficiencies.

With over 50 exhibiting companies, ESX showcases a wealth of innovation and technology in energy efficiency, generation and storage.

Convergent will be on-hand to discuss how they help companies like Shell Canada, Husky Injection Molding, a Fortune 100 automaker, and other facilities across Ontario significantly reduce their Global Adjustment with battery energy storage systems.

Attendees will also learn from additional leaders in the fields about efficiency for commercial, industrial, MURB, office, retail, food services and institutional sectors. The educational sessions and expert-led workshops include: Building Intelligence and the Impact of POE in 2020, Elevating the Energy Performance of Window Retrofit and Replacement, On the Road to RTO, Pumps: The Heart of Your Building, Big Data, Compressed Air Leaks, New Frontiers in Building Automation, Clean Energy and more.

Keynote speaker Cara Clairman, president/CEO of Plug 'n Drive, will be on-hand to discuss the Future of Transportation, including electrified transit, truck/delivery and battery storage.

The Energy Solutions Expo Canada is being held February 19, from 8 am to 4 pm, at the Pearson Convention Centre.

ALSO INCLUDED in your Registration: complimentary continental breakfast, lunch and beverages, plus a bonus Networking Event with hors d'oeuvres the evening prior (February 18, 5:30 pm to 7:30 pm).