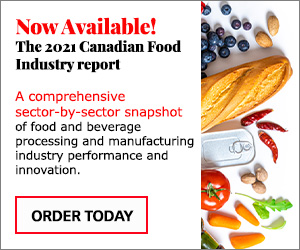 The governments of Canada and Ontario are investing nearly $3 million in three new initiatives to enhance biosecurity and support the provincial pork sector's African swine fever prevention and emergency preparedness efforts.
» Read full article
Barchemy launches a dedicated chocolate production line free from 12 allergens, such as gluten, peanut, tree nut, dairy, egg, soy, corn, sesame, mustard, coconut, fish and shellfish.
» Read full article
The Saskatchewan Food Industry Development Centre appoints Sara Lui as new product innovation director. Lui will lead the food centre's initiatives in developing plant-based food and beverage products for the CPG sector.
» Read full article
GNT is expanding its operations in North America with an initial investment of $30 million in a new 49-acre facility in Gaston County, N.C.
» Read full article
Packaging company Rootree launches its second annual RT | Foundation award that seeks to support small businesses by providing $8k-worth prizes including customized packaging and professional product photography.
» Read full article