Novemebr 6, 2019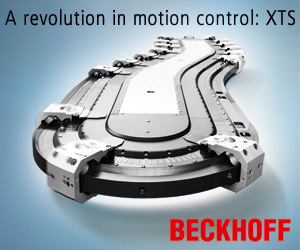 Sappi Limited has finalized its acquisition of the Matane high-yield hardwood pulp mill in Quebec from Rayonier Advanced Materials.
» Read full article
Molson Coors Brewing Co. will cut hundreds of jobs in a restructuring effort that will see the brewer change its name as it focuses on growing its portfolio beyond beer.
» Read full article
Under the lead theme of "Industrial Transformation," the 2020 show will spotlight all the latest trends and topics, such as Industry 4.0, artificial intelligence, 5G and smart logistics.
» Read full article
FANUC America has opened a new 461,000-square-foot robotics and automation facility in Auburn Hills, Michigan.
» Read full article
Venture Steel Inc., a metal processor and distributor, has been fined $150,000 by the Ontario Ministry of Labour after pleading guilty to charges involving a worker fatality.
» Read full article
Our cover story is about edge computing – what it is, how it works with the cloud and what's required to build a data centre in your plant.
» Read full article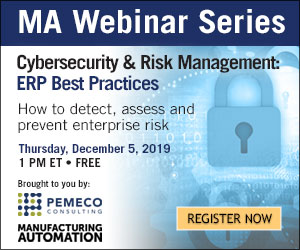 Join Manufacturing AUTOMATION and Pemeco Consulting for our free webinar!
Cybersecurity & Risk Management: ERP Best Practices
December 5, 2019 | 1 PM ET
You'll learn:
Which areas of your industrial control system are of most concern
How bad agents get access to networks and equipment
How to respond to a cybersecurity threat
How to strengthen your resilience to attacks
Speaker Jonathan Gross, managing director of ERP consulting firm Pemeco Consulting, will provide a digital road map on how to manage risk across the enterprise.
Register now!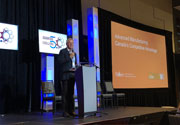 At the Excellence in Manufacturing Consortium (EMC)'s national conference last month, industry leaders discussed automation as both a means to company growth and a solution to the skills shortage in the manufacturing sector.
» Read full article
The 3D printer supplier has expanded its additive manufacturing facility in the Toronto region by 6,000 square feet to accommodate its new partnership with Carbon.
» Read full article
Rittal Systems Ltd. has been certified as a Great Place to Work for 2020 after an independent analysis conducted by Great Place to Work Institute Canada.
» Read full article
Engel will serve as an independent director and has been appointed as a member of the audit and compensation committees of the board.
» Read full article
The president of a Waterloo, Ontario-based online training platform discusses how manufacturers can face the skills gap by doling out knowledge to workers, one minute at a time.
» Read full article
iGAM.com is a new e-commerce website to find and purchase reconditioned robots, manufacturing equipment and robot parts from brands including ABB, FANUC, KUKA and Yaskawa.
» Read full article
ODVA, the international standards development and trade organization for industrial automation, has announced Steven Fales as its director of marketing.
» Read full article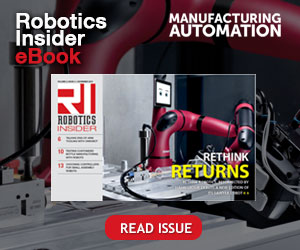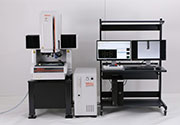 Mitutoyo America Corporation has released the MiSCAN Vision System, a multiple-sensor measurement system for autonomous scanning, covering micro-form to larger workpieces.
» Read full article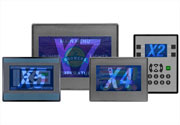 Horner Automation Group has unveiled its entry-level series of all-in-one control systems available with two-inch, four-inch and seven-inch screens.
» Read full article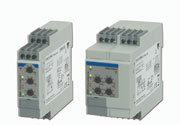 Carlo Gavazzi has added several three-phase monitoring relays, featuring a wider input voltage range.
» Read full article