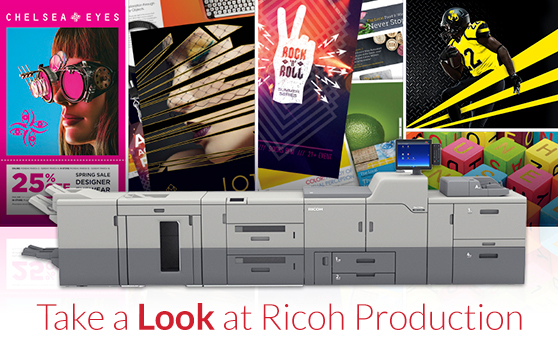 Hi &FNAME;,
Heads up! Something good & colorful is coming your way!
We have sent you a free Print Samples Package on behalf of Ricoh Canada.

These unique samples were printed using Ricoh's Next Generation 5th Station technology - the New Pro C7200GA Series.

The Ricoh Pro C7200GA series, five-colour presses deliver outstanding image quality and productive performance at a competitive price. With the 5th colour station, extra impact can be elevated, whether by:

➢ Adding a clear varnish to accentuate designs
➢ Printing white directly onto coloured or metallic foil media,
➢ Using invisible red for entry level security applications, and
➢ Applying neon yellow and pink for a greater impact to the print and to extend the colour gamut.
Take a sneak peak even before your samples arrive!
Click here to watch a short video about the Ricoh C7200 Series and how its neon yellow, neon pink, clear and white toner applications can help transform your business.

We hope that these samples get your creative juices flowing for Game changing ideas!

**Please click here if you would like to opt-in to receive Ricoh Canada's best practices, news and offers via email.