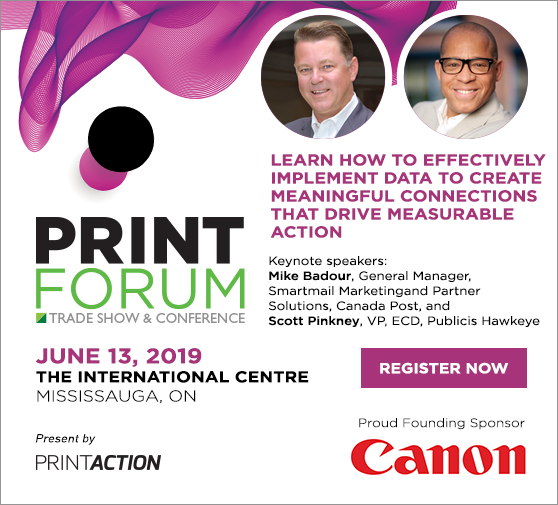 Gain valuable insight from top experts and your peers in the print community. Hosted by PrintAction, PrintForum is a FREE, 1-day conference and tradeshow that offers best-in-class educational sessions, networking opportunities, show exhibits, and more to up your game and confidence.

Meet our afternoon keynote speakers:
Mike Badour
General Manager, Smartmail Marketing and Partner Solutions, Canada Post
Scott Pinkney
VP, ECD, Publicis Hawkeye

The DMA made a thoughtful statement when it said "The companies that understand people the best win." But with so much information available, it's difficult to know how to navigate through the complexity of it all. By learning how to effectively implement data, you can create meaningful connections and powerful Relationship Moments® that drive measurable action. The speakers will share best-in-class, inspirational examples that successfully reached the right audience – and got the results to prove it.

Other speakers include:

Richard Kouwenhoven
President and Chief Operating Officer, Hemlock Printers

Harold P. Leete
Sales Specialist/Sales Consultant, Folding Carton & Plastic Card, Graphics Solutions Business North America, HP Inc.

Dr. Abhay Sharma
Professor, The School of Graphic Communications Management, Ryerson University

Rich Pauptit, President, Flash Reproductions

Jason Burlington, Account Manager, Pronto Reproductions

To learn more about the conference and to register, visit PrintForum.ca. We look forward to seeing you next week!