May 15, 2019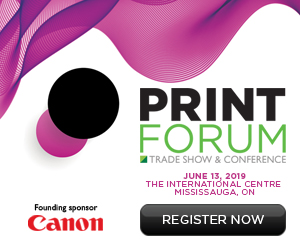 Canon Canada in March introduced the Océ Arizona 1300 series of high-productivity mid-volume UV true flatbed printers, delivering prints up to 568 square feet per hour and high-density prints up to 380 square feet per hour.
» Read full article
Roland DGA Corporation in March 2019 launched the VersaUV LEF2-200 20-inch benchtop UV flatbed printer for full-colour graphics and textures, including finishes such as simulated embossing, on a range of materials and objects up to 3.94 inches thick.
» Read full article
Sun Chemical has announced it will increase its entire portfolio of ink, coating and consumable products prices in North America starting October 2018.
» Read full article
The Jeti Tauro H3300 UV-LED inkjet system from Agfa Graphics made its North American debut last fall at SGIA 2018. Described as an UV inkjet system designed to support single or dual master rolls for uninterrupted printing, the press boasts four levels of automation to choose from.
» Read full article
MPI Print has installed Canada's first Scodix Cast & Cure Ultra 202 digital enhancement press at its Concord production facility, enabling the trade-only sheetfed printer to produce spot UV and raised UV finishes, and boosting its spot foiling and cast & cure capabilities.
» Read full article
Jag Printing, an Edmonton, Alta., printing company equipped with both offset and digital sheetfed capabilities, has installed the country's first Duplo DDC-810 Raised Spot UV Coater from Sydney Stone.
» Read full article
Exploring the secret world of security printing and some of today's latest solutions designed to enhance the security of print processes and products.
» Read full article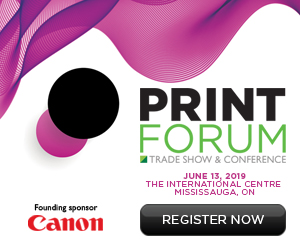 Hosted by
PrintAction
, PrintForum is a
FREE
, 1-day conference and tradeshow that brings together the printing industry for a day of learning, networking and review of the latest technology, services and products shaping the market. The action-packed day kicks off at 10am with a morning keynote presented by Richard Kouwenhoven, President and Chief Operating Officer, Hemlock Printers. Have you secured your seat yet?
» Register now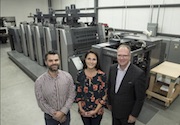 Quebec printing company Précigrafik is seeing "significant increases" in its production capacity, thanks to the addition of its new RMGT 7 series LED-UV five-colour offset press.
» Read full article

Full Frame Signs, a Toronto, Ontario-based and family-owned print services provider, is expanding its print capabilities with its recent acquisition of Fujifilm's Acuity Select 28 UV inkjet press for creative print applications.
» Read full article
Laser Reproductions and its subsidiary Welter Studio, a full-service printing company in Toronto, Ont., has installed a new RMGT 9 series sheetfed offset press, replacing its 12-year-old RMGT 7 series press.
» Read full article
Durst, a manufacturer of digital printing and production technologies, has launched the Tau 330 RSC E UV inkjet single-pass press for small and medium converters in the mid-tier market.
» Read full article
Printing inks provider Siegwerk has joined forces with INGEDE member Stora Enso, a provider of renewable solutions in packaging, biomaterials, wooden constructions and paper, to improve the deinkability of UV/LED cured prints.
» Read full article
TRESU of Denmark in March 2018 introduced its FlexiPrint Reservoir SAVEink chamber doctor blade, described as a light, fast-change inking system for narrow-web UV and water-based flexo applications.
» Read full article
Sidprint, a boutique digital print shop located in Vaudreuil-Dorion, Que., has purchased what it says is Canada's second Duplo DDC-810 Spot UV Coater.
» Read full article
Uflex Chemicals has introduced its new FlexGreen range of UV LED sheetfed inks for commercial printing and packaging.
» Read full article
Phoseon Technology last September introduced TargetSure Technology, a technology that monitors UV irradiance in real-time, at Labelexpo Americas 2018.
» Read full article
BILD in February 2018 introduced a media line, sold through Veritiv, aimed at UV-based sheetfed offset printing of applications like mats, pole wraps, end cap displays and wall graphics.
» Read full article
Location: The International Centre, Mississauga, Ont.
Date: June 13, 2019
» More Info
Location: Munich, Germany
Date: May 14-17, 2019
» More Info
Location: Milan, Italy
Date: May 28-30, 2019
» More Info
Location: Montreal, Que.
Date: May 30, 2019
» More Info
Location: Etobicoke, Ont.
Date: May 30, 2019
» More Info