Oct. 2, 2018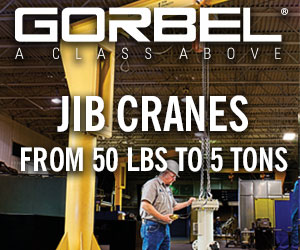 More access to dairy but Canada saves dispute provision, accommodation reached on Section 232 tariffs.
» Read More
$40-billion joint venture that includes a gas liquefaction plant in Kitimat.
» Read More
Liberals in second and the PQ in a distant third, barely ahead of Quebec solidaire.
» Read More
Musk and Tesla will each pay US$20 million to resolve the SEC case.
» Read More
Company says it learned of the outbreak on Friday.
» Here's how to enter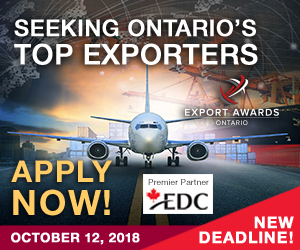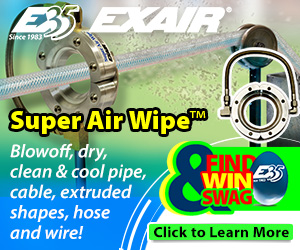 EXAIR's Super Air Wipe™ provides a uniform 360° airstream that is ideal for blowoff, drying, cleaning and cooling of pipe, cable, extruded shapes, hose, wire and more. The split design offers easy clamping around the surface of the material moving through it, eliminating the need for threading. Stainless steel wire braided hose is included on sizes up to 4" for added corrosion and heat resistance. Aluminum models are rated for temperatures up to 400°F (204°C) and stainless steel models for temperatures up to 800°F (427°C).
» Read More
Infrastructure reliability focused on better serving passengers and tenants.
» Read more
Danny Williams championed Muskrat Falls as a form of energy independence from Quebec, before retiring from politics shortly after announcing the plan in 2010.
» Read more
The target number would mean a 24% drop from the roughly 52,400 immigrants Quebec accepted last year.
» Read more
How does your pay measure up? Use the Salary Calculator to compare your wage against national averages.
» Read more
Then you are a candidate for the Ontario Export Awards. Deadline extended to October 12
» Read more
TRENDING ON CanadianManufacturing.com...
Facebook reports there were no signs that any of the 50 million user accounts affected were misused
» Read more
The transaction expands its position in the market for cured meats and is expected to close in December
» Read more
The EU and China are pushing for more electric and hybrid vehicles to reduce greenhouse gases and pollution
» Read more
Amazon, which has 575,000 employees globally, will pay U.S. workers US$15 per hour starting next month
» Read more
The "household name" was booted from the Dow Jones Industrial Average last month, as shares tumbled to a nine-year low
» Read more