October 9, 2018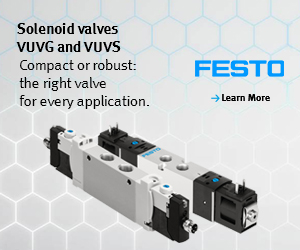 Ontario premier and Alberta opposition leader spearheading a growing opposition to the feds' carbon scheme.
» Read More
Provision requires an USMCA member country to provide notice to the other two partners if it plans free trade talks with a "non-market" economy.
» Read More
Brett Kavanaugh was confirmed to the bench 50-48 Saturday, amid controversy over sexual assault allegations.
» Read More
Sees no obstacle in the controversial clause in the US-Mexico-Canada Agreement.
» Read More
A look at the past week's claims.
» Read More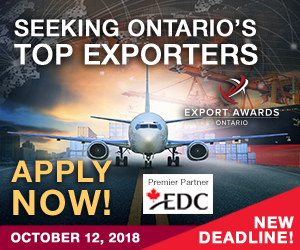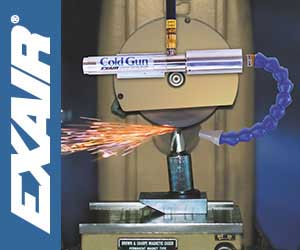 Heat buildup on dry machining operations reduces tool life and machining rates. The Cold Gun Aircoolant System produces a stream of clean, cold air at 50°F (28°C) below supply air temperature. Operation is quiet and there are no moving parts to wear out. It will remove heat to prolong tool life and increase productivity on machining operations. The Cold Gun eliminates the costs associated with the purchase and disposal of cutting fluids and worker related health problems from breathing airborne coolants or slipping on wet floors. EXAIR's Cold Gun is non-adjustable to prevent freeze-up during use.
» Read More
Meeting the ambitious goal requires rapid, far-reaching and unprecedented changes in all aspects of society.
» Read more
Even with an agreement, a protectionist White House means more trouble to come.
» Read more
EY found only 46% of executives are planning a takeover in the next 12 months.
» Read more
Maximize the value of your management, plant floor committee.
» Read more
Automaker said it recorded one accident for every 3.34 million miles driven when its autonomous driving system was engaged.
» Read more
...Then you are a candidate for the Ontario Export Awards. Deadline extended to October 12
» Read more
TRENDING ON CanadianManufacturing.com...
A massive refinery blast at Irving Oil in Saint John, N.B., highlights a power imbalance between the power regulator and large refining companies
» Read more
The device, called Portal, features a camera that uses artificial intelligence to automatically zoom as people move around during calls
» Read more
The pop-ups represent the iconic brand's first physical presence in Canada
» Read more
While the two academics worked separately, their research dovetails on an issue that has become pressing
» Read more
Advances in automation, machine learning and AI are transforming labour markets by causing job losses in developed countries, but also making it possible for developing countries to "leapfrog'' to new technologies
» Read more