October 23, 2018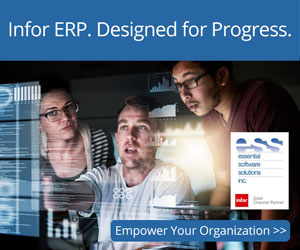 Marcelo Ebrard offered few details Monday on the timing of the trade pact's ratification.
» Read More
Tory beat out Jennifer Keesmaat in the mayoral election. Patrick Brown is mayor of Brampton.
» Read More
Accepting submissions until Oct. 29 on whether the 670-kilometre pipeline should be considered a federal project.
» Read More
Key to the jump was a writeoff that was part of a financing package to keep automaker Chrysler afloat during the recession.
» Read More
Alain Bellemare warned Mitsubishi Heavy Industries board chairman Hideaki Omiya that the practices of subsidiary Mitsubishi Aircraft were causing "significant harm" to Bombardier.
» Read More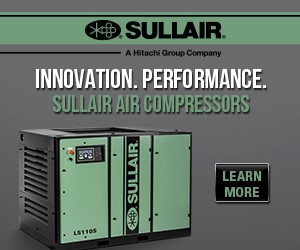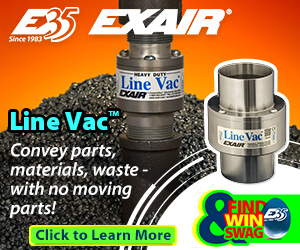 Convey parts, materials, waste - with no moving parts! A fast, low cost way to convey:
• Plastic pellets
• Scrap trim
• Bulk solids
• Food products
• Much more
EXAIR's compressed air operated Line Vac connects to standard hose or tube to create a powerful in-line conveyor. The compact design features large throat diameters for maximum throughput capability. Line Vac conveyors are ideal for moving large volumes of material over long distances. A small amount of compressed air is injected through directed nozzles to produce a vacuum on one end and high output flows on the other, with instantaneous response.
» Read More
No help dealing with Trump's Section 232 tariffs on steel and aluminum exports.
» Read more
The Pentagon is expected to have enough details filled out by early next year to include a Space Force plan in its 2020 budget request to Congress.
» Read more
Canadian industry needs to step up its game when it comes to research and innovation.
» Read more
Facility to be completed in 2020 and is part of a US$3.2 billion investment in new technology globally.
» Read more
TransCanada abandoned the pipeline one year ago after the National Energy Board modified the environmental assessment process.
» Read more
TRENDING ON CanadianManufacturing.com...
Lockheed Martin has won the right to negotiate a contract to design Canada's new $60-billion frigate and destroyer fleets
» Read more
North set up a 5,202 square metre (56,000 square foot) facility in Waterloo to produce its wearable smart glasses
» Read more
The Competition Bureau says its investigation determined that INOAC entered into illegal agreements with a competing Japanese parts manufacturer
» Read more
"A big mistake was not recognizing that you need a well-rounded leadership team to have a successful company," says Wysopal
» Read more