November 29, 2018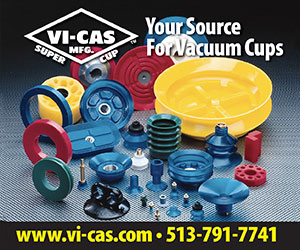 Plant is entirely dependent on GM's assembly line, 77 workers to be relocated.
» Read More
Jerry Dias wants GM to reverse plans to cut more than 14,000 jobs, including 2,500 production workers in Oshawa, Ont.
» Read More
The US president thinks tariffs on foreign imports will discourage companies like GM from shuttering US plants.
» Read More
The province has already started talks with a third party to buy enough rail cars and locomotives to put two more oil trains a day on the tracks.
» Read More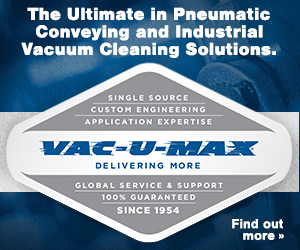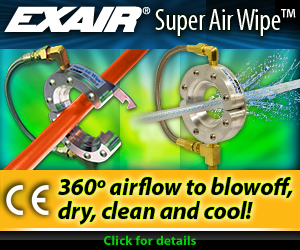 EXAIR's Super Air Wipe™ provides a uniform 360° airstream that is ideal for blowoff, drying, cleaning and cooling of pipe, cable, extruded shapes, hose, wire and more. The split design offers easy clamping around the surface of the material moving through it, eliminating the need for threading. Stainless steel wire braided hose is included on sizes up to 4" for added corrosion and heat resistance. Aluminum models are rated for temperatures up to 400°F (204°C) and stainless steel models for temperatures up to 800°F (427°C).
» Read More
Global carbon emissions must bend no later than 2020 to stand a chance of staying under 2 degrees C.
» Read more
Canada's manufacturing sector lost 278,000 jobs between 2000 and 2007.
» Read more
The human cost of job loss is enormous, potentially leading to depression, failing marriages or health, even suicide.
» Read more
The money will flow to jurisdictions with more attractive policies.
» Read more
TRENDING ON CanadianManufacturing.com...
Closing GM's Oshawa plant threatens the jobs of about 2,500 workers. But what does it mean for GM's long-term manufacturing presence in Ontario?
» Read more
He admitted to making false statements in 2017 to the U.S. Senate Select Committee on Intelligence about a plan to build a Trump Tower in Moscow
» Read more
President-elect Andres Manuel Lopez Obrador takes office Saturday, just a day after the United States, Mexico and Canada are to sign the USMCA
» Read more
More than 200 manufacturers transmit position information and dozens of other data points to government-backed monitoring centres, The Associated Press has found. Generally, it happens without car owners' knowledge
» Read more