Interlogix™ is discontinuing their security business, meaning installers have been left to find new solutions.
Alula Connect+ systems are affordable, flexible, powerful and smart.
Interlogix dealers qualify for Rescue Rebates:
Connect+ Panel
USD $25 REBATE
Panel with ZWave, Cell, WiFi
USD $35 REBATE
Panel with above + WiFi Touch Screen
USD $50 REBATE

Alula's Connect+ products are distributed by Aartech Canada
See here for rebate details
CONNECT+ SYSTEMS, CAMERAS & VIDEO DOORBELLS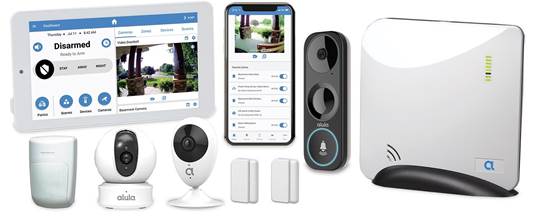 CONNECT+ The Most Flexible & Expandable Solution
Connect+ alarm & automation panels, doorbells and cameras are a great alternative to Interlogix systems with a full line of products for any installation scenario.

Takeover?
Add an internal translator to support GE Interlogix, DSC™ 433, Honeywell™ & 2Gig™ wireless sensors

Smash & Grab?
No worries, the panel can be installed out of the way near a router

Cost Effective?
Connect+ can be purchased as a panel only with onboard Ethernet and your customer can use their smart devices to arm, disarm & control.

Secure?
Connect+ Sensors and communications are encrypted.

Reliable?
5-Year Warranty on the panel & sensors

Expandable?
Supports up to 96 Sensors
Add affordable PINpads, keypads or the new Slimline Touchpad
WiFi & Cellular communicators available
ZWave card for smart home automation
Wired Translator can support up to 8 wired zones
Add cameras and video doorbells
Easy to Use and Manage?
Tap & enroll sensors
Configure using web app or dealer smart device app
Remote management, silence, diagnostics via dealer web portal
Additional Features:
Alarm panel can be installed out of the way near the router
Keypad options: No keypad needed (use the app), PINPAD, E-Ink pad, Touch screen
No worry about smash and grab – the panel can be hidden
5-year warranty on the panel and sensors
Encrypted communication
Ethernet, WiFi and Cellular communication paths available
Long-range Sensors, up to 1,500 feet – or further with available repeaters
Translator available to use existing wireless sensors on a takeover (GE Interlogix, DSC 433, Honeywell, 2Gig, Napco)
Wired translator available to allow 8 supervised wired zones
ZWave and automation option
Add cameras & doorbells to attach for more RMR. Can be used alone or with intrusion security.
LEARN MORE ABOUT CONNECT+
BAT-CONNECT TRIPLE PATH COMMUNICATOR & SMART UPGRADE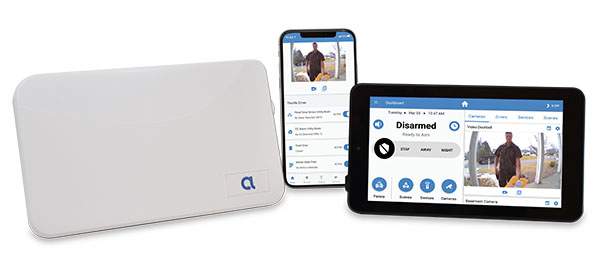 Update outdated panels
Interactive services with Sunset-Free Communication
Smart Home Upgradeable

Ask about Zwave & Touch Screen Options
Ethernet, WiFI, Cellular communicator all in one
Cellular uses CAT-M1 compatible with 4G LTE and 5G Ready
Easy Keypad Bus connection to DSC Powerseries, Honeywell Vista (zone status, arm/disarm, alarms)
Planned support soon for NX, Concord, Napco bus connection
Universal 4G/5G/WiFi/Ethernet alarm communicator for other panels
Simon XT series version coming soon
Optional Zwave card for smart home automation
Optional Touch Screen to allow modern touch screen to be added to older systems
LEARN MORE ABOUT BAT-CONNECT
---
WIRELESS TRANSLATORS, REPEATERS AND SENSORS
WIRELESS TRANSLATORS & REPEATERS
https://www.aartechpro.ca/re524x
Built in repeater to enhance wireless systems
Translates one brand of wireless sensor to another brand of panel
Universally compatible: GE Interlogix, DSC 433, Honeywell, 2GIG – just turn the dials
Built in battery backup
WIRED TO WIRELESS TRANSLATOR
https://www.aartechpro.ca/re508x
Provides 8 wired zones
Transmits to a wireless alarm panel
One product works with GE Interlogix, Honeywell, 2GIG, DSC 433 – just turn the dial
WIRELESS SENSORS
Wireless sensors available to work with DSC 433, GE Interlogix, Honeywell, 2GIG
5 year warranty
Low price
Long battery life – up to 10-15 years battery
Available sensors include:

Door/Window (with 2nd wired zone)
Nano slim door/window with wired zone
glass break, tilt, motion (with 2nd wired zone)
Smoke
Carbon Monoxide
Outdoor Motion
Outdoor Door/ Window / Gate
Ceiling Motion
LEARN MORE BY VISITING
https://www.aartechpro.ca/cat/alula
Attending Security Canada Central?


Visit Alula at booth #729
Visit Aartech Canada at booth #907
* All product names, logos, and brands are property of their respective owners.