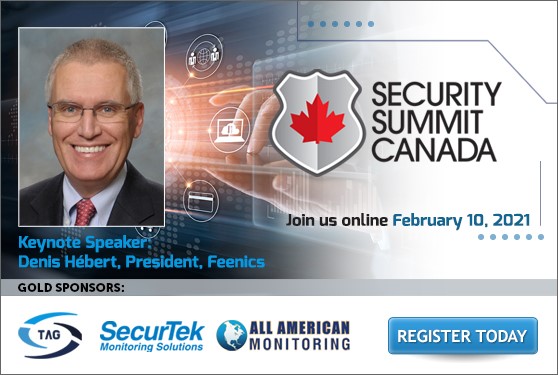 SP&T News introduces a powerhouse line-up of speakers and panelists for Security Summit Canada, a virtual event coming Feb. 10.

In addition to keynote speaker Denis Hébert, President of Feenics, we will be joined by:

• Morgan Hertel, VP of Technology and Innovation, Rapid Response Monitoring
• Gordon Hebb, Vice-President of Sales, Wilsons Security
• David Koziel, President & CEO, Northern Alarm
• Scott Jupp, Canadian Director, Integration & National Sales, Stanley Security
• Danny Zavaglia, Canadian Security Sales Manager/Business Performance Leader,
Johnson Controls
• Victor Harding, Principal, Harding Security
• Marc Henley, Director of Corporate Development, Avante Logixx
• Henry Edmonds, President, The Edmonds Group
• Oliver Blum, Managing Director, Partner, New Look Capital

Security Summit Canada is free to attend and packed with information designed to help Canadian security and alarm company owners and operators maximize their potential, grow their client bases and exceed their financial goals. Sign up today and save your spot!