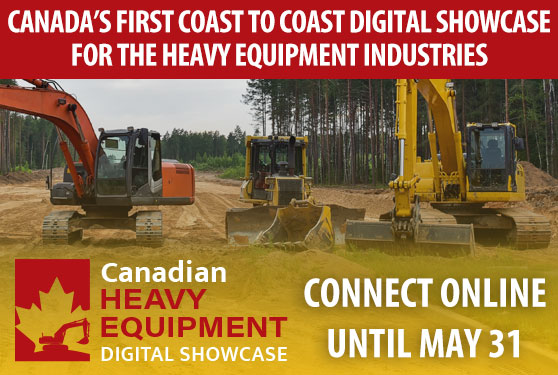 From the producers of major heavy equipment trade shows including the National Heavy Equipment Show (ON), Expo Grands Travaux (QC), the Atlantic Heavy Equipment Show (NB), Canada North Resources Expo, TRUXPO, and the Pacific Heavy Equipment Show (BC), comes a brand-new digital product.

IIntroducing the Canadian Heavy Equipment Digital Showcase – a unique online platform where users can search through an extensive database of exhibitors from coast to coast. Featuring heavy equipment dealers, earthmoving equipment, aggregates, engines, and more, the Canadian Heavy Equipment Digital Showcase helps connect you with businesses directly from the platform. You can browse products and services, take advantage of exclusive specials, and enter for a chance to win great prizes… all from the comfort and safety of your home.

If you're looking to buy or rent equipment for landscaping, parks maintenance, snow and ice removal, tree care, and more, make the Canadian Heavy Equipment Digital Showcase your first stop. Unlike a typical two-day trade show, this digital showcase is available now through May 31, 2021.

The traditional face-to-face trade shows will be back to welcome you with open arms next year, but for now, take advantage of this easy way to connect with heavy equipment dealers, manufacturers, and service providers from across the country. Visit the Canadian Heavy Equipment Digital Showcase today!

Follow us on Facebook for real-time updates and special promotion
>> Connect online