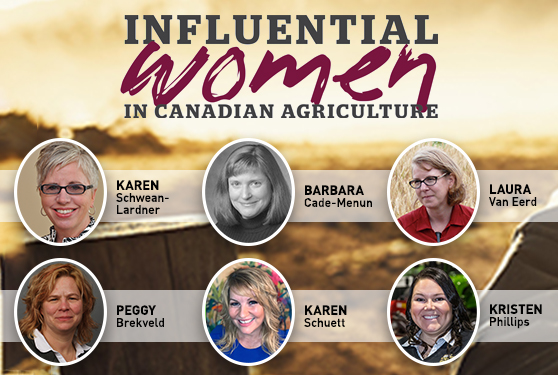 In March, the teams behind the agricultural magazines at Annex Business Media launched Influential Women in Canadian Agriculture (IWCA), a recognition program designed to honour, highlight and celebrate the work women are doing across Canada's agriculture industry. We asked our readers to nominate Canadian women working in all areas of agriculture, from farming and research to animal health, sales and marketing.

We are thrilled to present the inaugural six women chosen as Influential Women in Canadian Agriculture. Please join us in congratulating:

Peggy Brekveld, dairy farmer and agvocate, Ontario
Barbara Cade-Menun, research scientist, Agriculture and Agri-Food Canada, Saskatchewan
Kristen Phillips, owner-operator of WP Acres Ltd. and general manager of Manitoba Ag Days, Manitoba
Karen Schuett, CEO and co-founder of Livestock Water Recycling, Alberta
Karen Schwean-Lardner, associate professor, University of Saskatchewan, Saskatchewan
Laura Van Eerd, professor, University of Guelph Ridgetown Campus, Ontario

These six women will share their stories, wisdom and insight in a new podcast series on AgAnnex Talks, a podcast channel presented by Top Crop Manager, Potatoes in Canada, Canadian Poultry, Fruit & Vegetable and Manure Manager magazines. The first episode, featuring Karen Schwean-Lardner and Canadian Poultry editor Brett Ruffell, launches June 15, and new episodes will follow biweekly after that. Never miss an episode by subscribing to AgAnnex Talks on Apple Podcasts, Google Podcasts, Spotify, or wherever you listen to podcasts.

The team behind IWCA wishes to extend a sincere thank you to our audiences for participating in the program, and to our sponsors for their support.