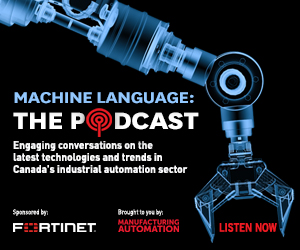 An Ontario-based patio door manufacturer realizes cost savings and safety improvements with automated material movement.
» Read full article
As we enter the COVID-19 upturn, smart manufacturers are leveraging the full range of government programs to achieve their growth objectives.
» Read full article
The new lab features a variety of robotic applications that use advanced technologies designed to help customers improve accuracy and flexibility.
» Read full article
NGen is matching $5 million in industry funding for projects leading to the development and production in Canada of automated hands-free disinfection technologies to help stop the spread of COVID-19.
» Read full article
Festo is focusing on digitalization, machine learning and artificial intelligence applications during the coronavirus crisis, the company said in a financial update.
» Read full article
It will be a considerable amount of time before manufacturers are able to ramp up to normal volumes again, but automation can fill in some of the gaps when it comes to staffing and production efficiency challenges.
» Read full article
Situational awareness technologies using hazardous condition sensors, cameras and geo-location will introduce an increased reliance on wireless communications networks, AI and industrial IoT.
» Read full article