@{mv_date_MMM d, yyyy}@
Freeland says the tariffs will match dollar-for-dollar the costs of the planned 10% import tariff on Canadian raw aluminum that will apply starting Aug. 16
» Read More
In regions with a higher unemployment rate, benefits will be calculated using the actual rate for that region
» Read More
GM alleged in a court filing last week that FCA spent millions on bribes by stashing the money in foreign accounts
» Read More
Polling firm Leger says numbers reflect a lack of a clear rationale for the action by the mercurial US president.
» Read More
Manufacturers and their workforces are among the heroes who have battled the spread of COVID-19, and we are going to recognize them with a virtual gala event September 17, 2020 at 11 am ET.
» Register now!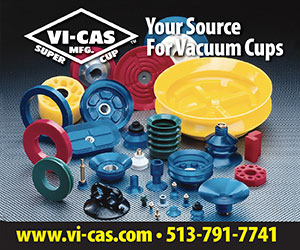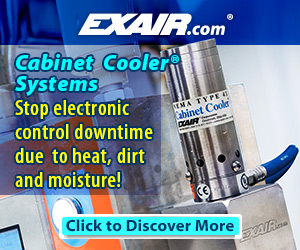 A low cost, reliable way to cool and purge electronic control panels. EXAIR Cabinet Coolers incorporate a vortex tube to produce cold air from compressed air - with no moving parts. NEMA 12, 4, and 4X Cabinet Coolers that match the NEMA rating of the enclosure are available in many cooling capacities for large and small control panels. Cabinet Coolers convert an ordinary supply of compressed air into clean, cold 20ºF air. They mount in minutes through an ordinary electrical knockout and have no moving parts to wear out.
» Learn more
A virtual summit co-hosted by Manufacturing AUTOMATION and Canadian Plastics looked at what role automation will play in recovery for manufacturers
» Read more
Although any pest is detrimental for stock, food safety and audit scores, rodents are particularly troublesome
» Read more
Catching a glimpse of a co-worker's baby or pet can help humanize workplaces and make colleagues more understanding and empathetic
» Read more
The spread of COVID-19 can be reduced with simple actions
» Read more
A research team carefully spilled dilbit into mini-lakes to uncover the real-world responses of the oil and its impact on aquatic life
» Read more
While CEBA, CEWS well used, CECRA continues to fall short, according to CFIB
» Read more
Integration of operational technology with information technology will continue to influence the dynamics of this market
» Read more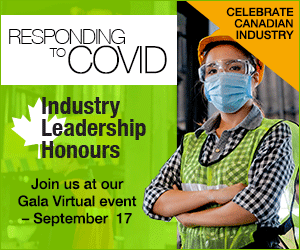 Decide where you are going and what you want to achieve, then gradually work towards it.
» Read more
CLPM solutions automatically capture and model data from integrating and non-integrating processes.
» Read more
| | |
| --- | --- |
| TRENDING ON CANADIANMANUFACTURING.COM | --- |
Insects have evolved adaptations that enable them to live in a huge range of environments around the globe
» Read more
Ingredient suppliers to work with processors to develop new plant-based protein products
» Read more